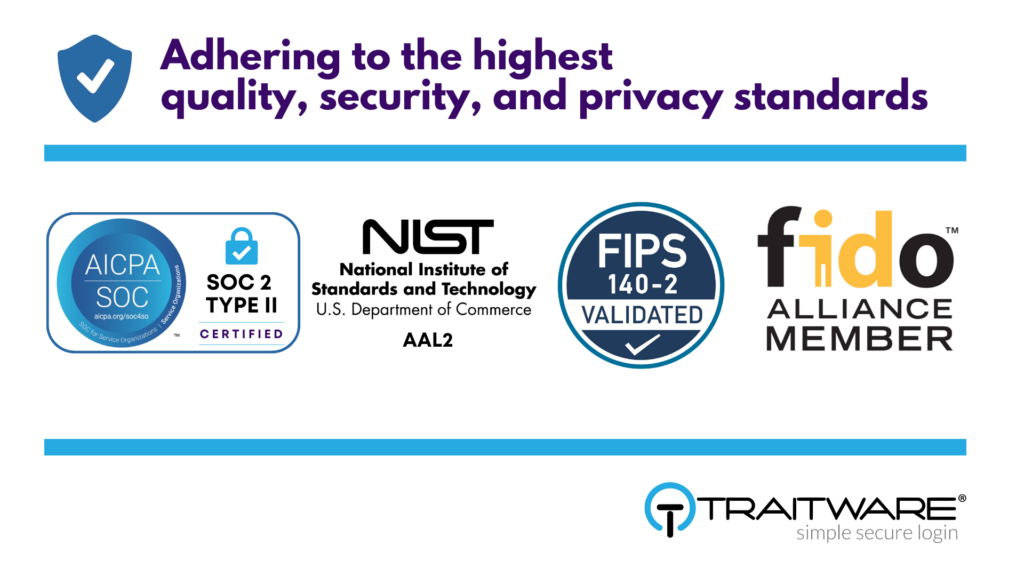 Trust in TraitWare
TraitWare has gone above and beyond what the industry expects from a cybersecurity provider. With 5 patents and several more pending, TraitWare technology works NOW to secure the highest risk sectors, integrates with existing tools and systems, is simple and accessible for all users, and comes with guaranteed scalable excellence.
TraitWare complies with the highest quality, security, and privacy standards.
–Compliant – Meets requirements for FIDO, NIST, AAL2*, SOC2-Type2, HIPAA, PCI, SEC, GDPR, CCPA, M-22-09 mandate from the US Govt., and more.
–Standard – OIDC, SAML 2.0, on iOS or Android, and for virtually any enterprise-ready application
*The highest level of security for a software authenticator
TraitWare Patents:
US patents (101649740, 1050388, 11068476, 11301555, 11406196, 11805121)*
*Selected TraitWare processes (such as registration, Windows authentication, and Linux authentication) are also covered by pending US and international patent applications.
Seeing is Believing
But don't take our word for it. Listen to what our customers are saying.
Take it for a free spin and see it for yourself
For more on how TraitWare is working to simplify and secure login, drop us a line and we'll book a time to chat.
---