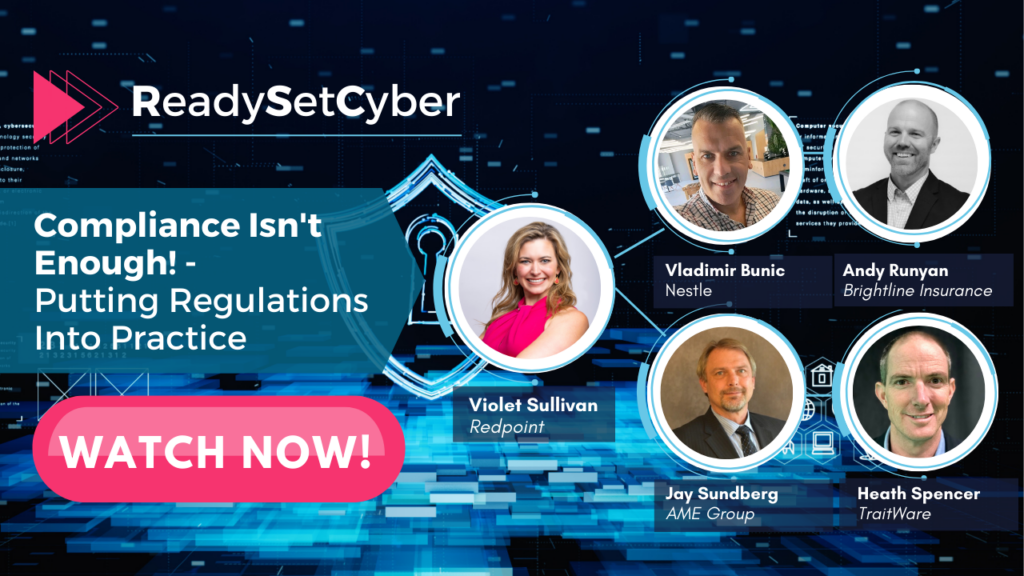 Compliance Isn't Enough! – Putting Regulations Into Practice
Moving Beyond Just Checking the Boxes – To Implementing Strong Security
While there is no shortage of regulations around cybersecurity for the enterprise, we're falling behind. One Cisco study shows that a mere 15% of companies surveyed have the right measures in place to defend against cyber-attack.
In this month's ReadySetCyber – August 23rd at 8.30 am PST / 10.30 am CST / 17.30 CEST, we discussed the regulations around cyber security – from the Federal Trade Commission's FTC Safeguards Rule to the recently updated Cyber Security Framework (CSF) 2.0 from NIST (National Institute of Standards and Technology) and new Securities and Exchange Commission (SEC) regulations – and talked about how compliance does NOT necessarily equal security.
A Jam-packed 40 minutes!
On Deck?
MODERATOR – Violet Sullivan – Cybersecurity and Privacy Attorney, RedPoint
PANELISTS
Vladimir Bunic – Nestle
Jay Sundberg – The AME Group
Andy Runyan – Brightline Insurance
Heath Spencer – TraitWare, Inc.
CONTACT US any time with questions!