Single Sign On for the WordPress Ecosystem!
Simple, seamless passwordless logins for your content managers and users.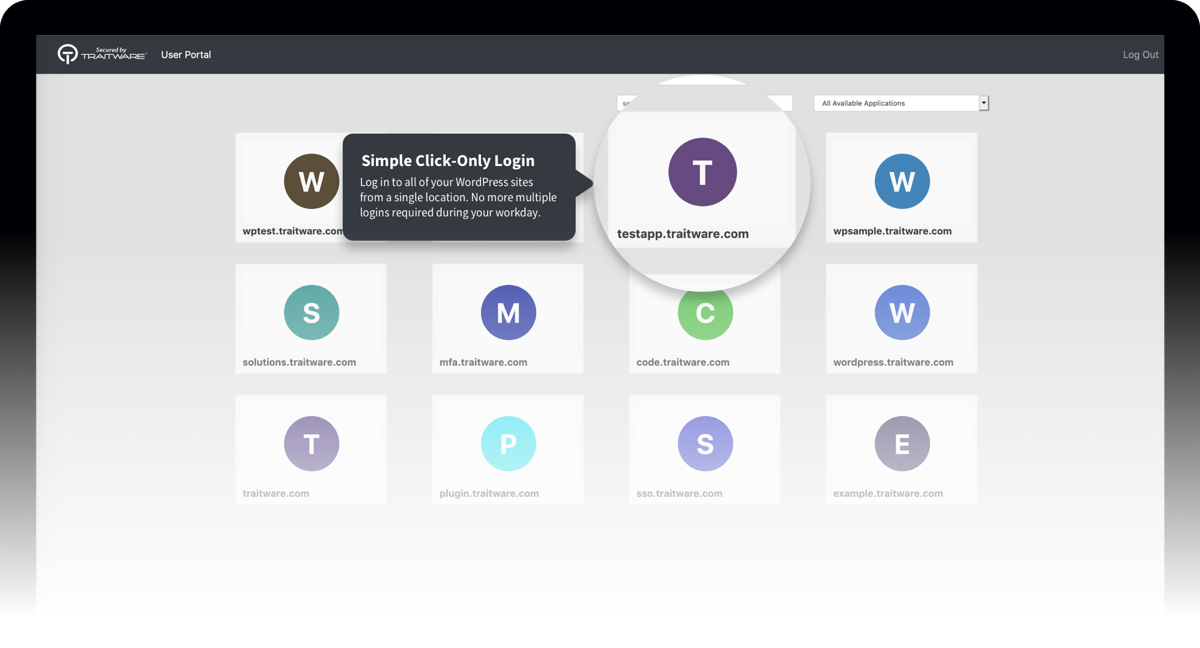 Screenshots
WPC(WordPress Console)

CSS Customization for Protected

Self Registration for WordPress
All Your WordPress Accounts. One Central Location. Passwordless.
Secure Login for WordPress is far more than your standard plugin.
Access all of your WordPress sites without a username or a password
Multi-factor Authentication login that delivers state-of-the-art security
No more login credentials to be hacked or compromised
Self-hosted and hosting providers can even protect their backend systems(SSH and SFTP)
Install
Install the plugin and set up your TraitWare® account all through WordPress!
Try Demo
Try a WordPress demo now! Enroll as a demo WordPress user and log in with TraitWare!
See Pricing
Check out our competitive pricing and start using TraitWare to manage your websites today!
See SSO for your CMS in action

Independent Security Testing Through Caliber Security Partners
WP REVIEWS
"TraitWare provides the improved security and convenience our company needs. Super easy to use, TraitWare gives us quick login to all our accounts in one go, without the hassle of passwords."
This is one of the easiest solutions I've ever seen for login management. It takes minutes to set up, and there's something cool about triggering the login on your laptop using your smartphone. The added benefit of multi-factor authentication that doesn't suck is incredibly helpful.
I've gotten to the point of passwords where I'm just lazy. I start making them all the same and get tired of trying to fulfill these ridiculous requirements. This plugin finally made it to where I don't have to remember anything. With a fingerprint reader on my phone, I can sign in to my WordPress and never have to remember a thing. The setup was easy and clear, and I now feel like I don't have to worry about being hacked.
Not having to use a password is super convenient. I can't tell you how many times I've had to reset my password in wordpress. Glad I don't have to worry about that again. Great plugin!
The TW Plugin is literally the future of website login security. We create and manage a lot of WordPress sites and it is safe to say that all of them will be using this resource. Say good bye to usernames, passwords and compromised login credentials!!!
I am constantly looking up my passwords, or I rely on my browser to save them. But when it comes time to remembering, I have no idea what it is off the top of my head. This app has been so great for not having to worry about remembering anything except where my cell phone is.
I showed it to my WordPress class and they all went… WOW!!! Works like a charm. Thanks!
Previous
Next