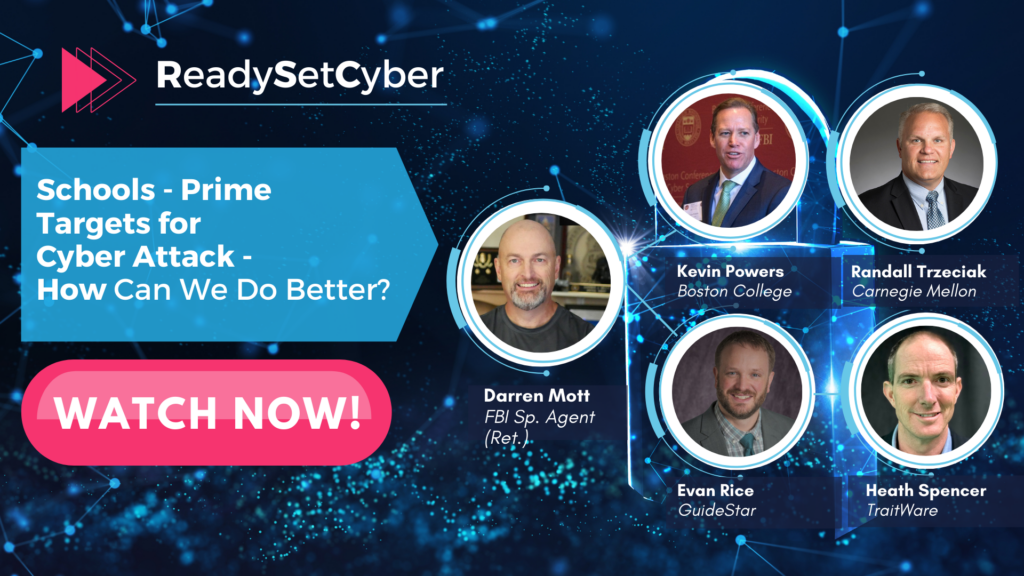 WHY SCHOOLS ARE PRIME TARGETS FOR CYBERATTACK, AND HOW WE CAN DO BETTER TO PROTECT THEM
MODERATOR
Darren Mott – FBI (ret.)
PANELISTS
Randall Trzeciak – Carnegie Mellon
Kevin Powers – Boston College
Evan Rice – Guide Star
Heath Spencer – TraitWare, Inc.
The University of Michigan was in the news recently following a cyberattack that caused internet outages across campus and resulted in password resets for all users.
Unfortunately, this is just one story among many, as reports of cyberattacks on schools have risen dramatically.
According to SOPHOS, Education is the #1 target for ransomware.
Recorded Future reported that more than 120 schools had ransomware attacks in the first six months of 2023, compared to a total of 188 in 2022.
The effects of cyberattack can be devastating for schools, both inside and outside of academic walls, with the longest recovery time of any sector and the potential for complete failure.
Moderated by Darren Mott – FBI (ret.), we dove deep into the subject and heard from some of the brightest in the industry. Questions and comments are welcome!