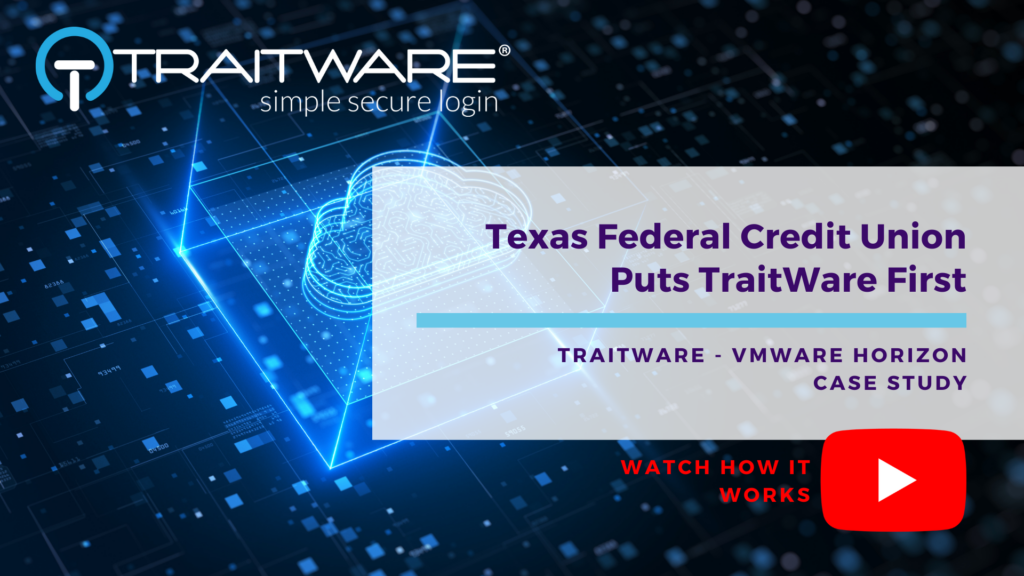 Texas Federal Credit Union Chooses TraitWare for Native MFA Solution
Highlights
–

Lightning-Fast Deployment

–

MFA From Account Creation

–

Super Easy & Delightful User Experience

–

Enhanced Enterprise Security

–

Simple Integration with VMware Horizon + All Existing Systems
Introduction – Securing the Financial Sector with TraitWare
Topping the list of target sectors for cybercrime is Finance, handling extremely valuable and sensitive information, where incidences have continued to increase over the past several years, particularly in the face of the COVID-19 pandemic.
This is the story of one of our most recent customers – Texas Federal Credit Union – a TraitWare Case Study
[Recognizing the sensitive nature of data within the financial services industry, and in keeping with core company values, we've elected to protect the identity of our customer. Exceptional reference is available upon request and under NDA.]
What the Customer Needed – Why TraitWare?
This Credit Union needed strong authentication for VMware Horizon that also covered Cloud applications. They came to TraitWare looking for a simpler and cost-effective way to secure internal and external access to company applications and assets. Realizing that 'Legacy Login' – with username and password – was not only extremely risky, but cumbersome, frustrating, and costly to maintain, they approached us having looked at several MFA solutions.
One of the problems they found as they evaluated MFA providers, was that most of them still required a knowledge factor for access – a PIN, an emailed push notification, SMS, or a 'buried' password – which they knew to be potentially risky (Phishable) and added friction for the user. They knew that security solutions must be simple to deploy, even DELIGHTFUL to utilize, in order to be widely adopted across the enterprise.

Finally, the company wanted to ensure that the transition, deployment, and management of the product were seamless and frictionless for both users and administrators, while customized to meet specific enterprise and regulatory requirements. TraitWare not only met all security requirements but also adhered to all necessary privacy regulations such as GDPR, CCPA, and so on.
What They're Saying About TraitWare

"Our company uses virtual computers and, while we already have many layers of security, we wanted to add MFA to our ecosystem. TraitWare was able to customize its solution to work with the Horizon Client (necessary to access our VMware virtual desktops). We were able to deploy it to all our employees quickly and easily. We are happy to have increased our security posture with almost no extra time required by our users. We are deploying TraitWare in a phased approach and MFA was just the tip of the iceberg. Over the next few months, we will continue to employ additional security while making it easier for our employees to log in to the systems they require to do their jobs."
– SVP and CIO, Mr. Morgan
For more information about TraitWare's Passwordless MFA + SSO solution, or to speak with one of our staff about how we might be able to help you, please reach out any time.
Read more from the American Financial Tribune