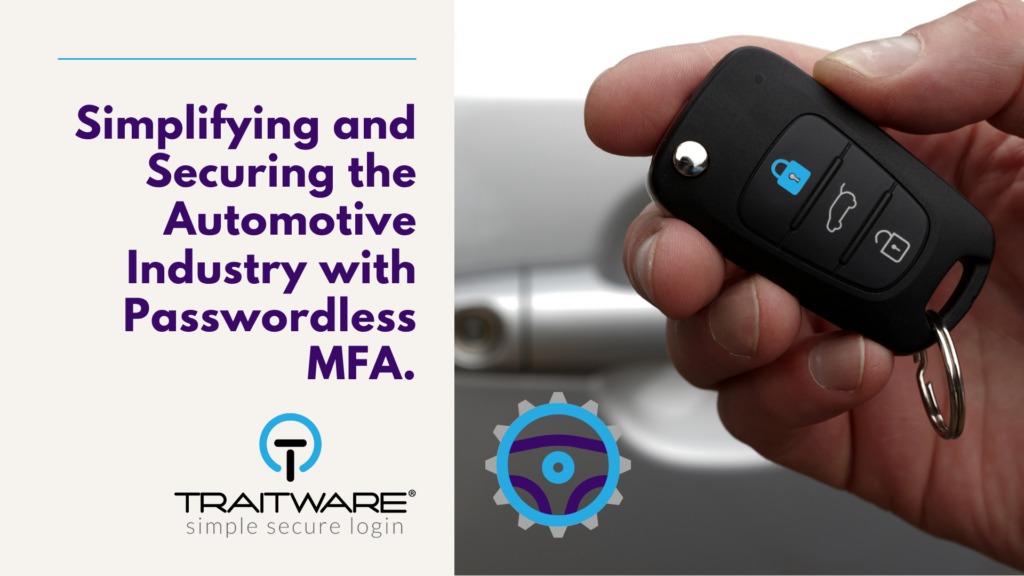 Automotive Company Chooses TraitWare for Security, Ease of Use, and Cost Savings
Highlights
–Compliant with FTC's Safeguards Rule – (In effect as of June 9, 2023)
– Passwordless Native MFA + SSO from one Solution
–

Super Easy & Delightful User Experience

–Enhanced Enterprise Security
Introduction – Securing the Automotive Sector with TraitWare
Cybersecurity regulations are tightening, as governments and companies worldwide realize that the cyber threat landscape has worsened over the past few years. Stricter regulations will affect companies of all sizes and in a host of sectors – including the automotive industry.
In the US, The Federal Trade Commission (FTC) is adding to cybersecurity regulations with the Safeguards Rule, which will affect any US organization that is handling customer financial information.
This will include auto dealerships, meaning that they must be in compliance with new rules to protect consumer information. One of the few security technologies that is specifically called for by the FTC is multi-factor authentication (MFA).
Through our partners at Versutia, one automotive dealer in particular found TraitWare to be the perfect solution for security and simplicity.
[Recognizing the sensitive nature of data within the automotive sector, and in keeping with core company values, we've elected to protect the identity of our customer. Exceptional reference is available upon request and under NDA.]
What the Customer Needed – Why TraitWare?
1- In this case, the auto dealership recognized that both internally and for its customers, it was going to have to enhance security with multi-factor authentication (MFA) that included access logs in order to avoid regulatory fines as of June 2023.
2- Like many, IT staff was largely outsourced, so the solutions needed to be easy to use by unskilled dealership staff.
3- The solution also needed to be cost-effective.
Technical Challenges:
The dealership, like many, was required to use automotive-specific applications that were not all modernized to current authentication standards such as SAML and OIDC.
TraitWare's Solution
-Protects 'front door' with Windows MFA
-TraitWare's solution meets and exceeds the FTC Safeguard requirement for MFA
-The dealer is "future-proofed" as it also meets the Cybersecurity and Infrastructure Security Agency (CISA) standards for phishing-resistant MFA.
-TraitWare was selected over both Cisco DUO and Okta as a better strategic solution.
-Customer can deploy segmented customer accounts from a single view
What They're Saying About TraitWare

"TraitWare is required for our whole staff. … The best part about the solution is that it's just there. I grab my phone, launch TraitWare and I'm in. I don't have to think about it. It just shrinks into the background.."
–Clem Tomas – President, Versutia
For more information about TraitWare's Passwordless MFA + SSO solution, or to speak with one of our staff about how we might be able to help you, please reach out any time.