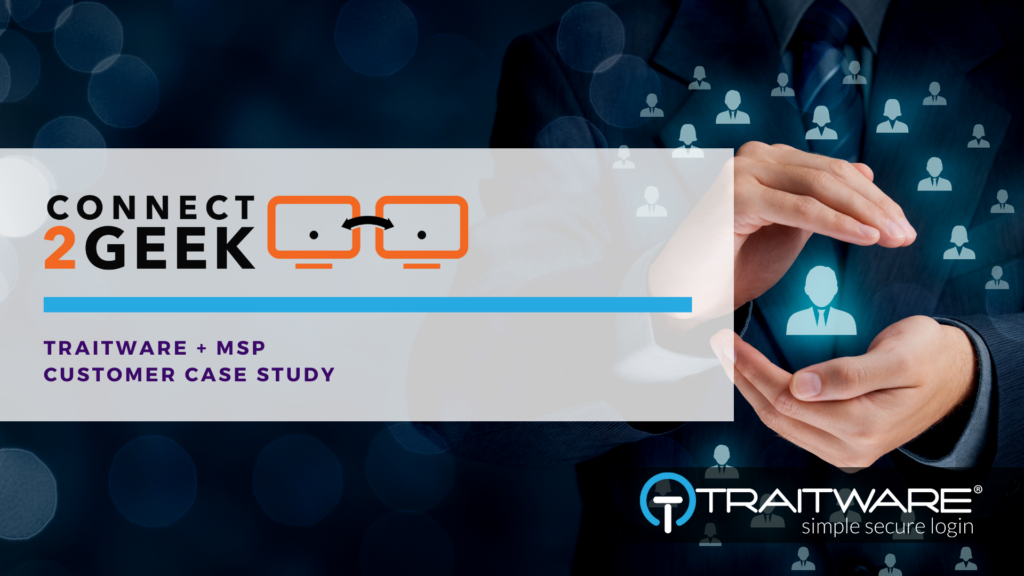 Highlights
– Pre-vetted/approved by Trusted Partner Brands (IBM, Microsoft, Citrix, Okta, Keeper … )
– Super fast and simple onboarding user experience
– Plug&Play – Uses current "government-grade" authentication standards (SAML, OIDC, FIDO, etc.)
– Easily integrates with existing IAM solutions (Okta, Ping, etc.)
– Single pane of glass makes life easier for us as MSP and our customers
– MFA inherent in the technology means dramatically improved security AND reduced friction
Introduction – Securing Your MSP and Your Customers with Real Passwordless MFA
It's the business of MSPs to help their customers make smart choices – but also choices that make the best sense for everyone involved, RIGHT NOW. There's no question that cybersecurity is a hot topic for companies of all sizes today. In fact, we know that implementing proper security measures is no longer just an IT concern. It's a business necessity.
Connect2Geek listened when experts and authorities listed Multi-Factor Authentication (MFA) (for 100% of users, 100% of the time) as the first critical step for cybersecurity. They chose TraitWare's Real Passwordless MFA™ for True Zero Trust Access™, not just for better security, but also for peace of mind for their company and their customers, heightened reputation and brand recognition, cost savings, and vastly improved ease of use.
What the Customer Needed – Why TraitWare?
Connect2Geek came to TraitWare looking for an affordable and trustworthy solution for MFA for their customers. But they needed a solution that could integrate with existing systems, something that they could easily customize for their clients, AND something that could be up and running quickly.
Now TraitWare is not only used for 7 Connect2Geek customers but also used internally to simplify and secure login.
What They're Saying About TraitWare
Upon first look at TraitWare:
And today? …
TraitWare provides simple and secure passwordless multi-factor authentication (MFA) and single sign-on (SSO) combined for Enterprises to manage all software authentications from a single console. TraitWare's award-winning authentication platform and mobile app offer NIST AAL2 level authentication assurance, full end-to-end deployment options for Enterprise (FIDO, SAML, OpenID Connect, OAuth 2.0, SSH), and simple user login, without usernames or passwords. TraitWare technology eliminates credential phishing, theft, misuse, and brute force attacks.
For more information about how TraitWare can simplify and secure login for your company, contact us at any time.