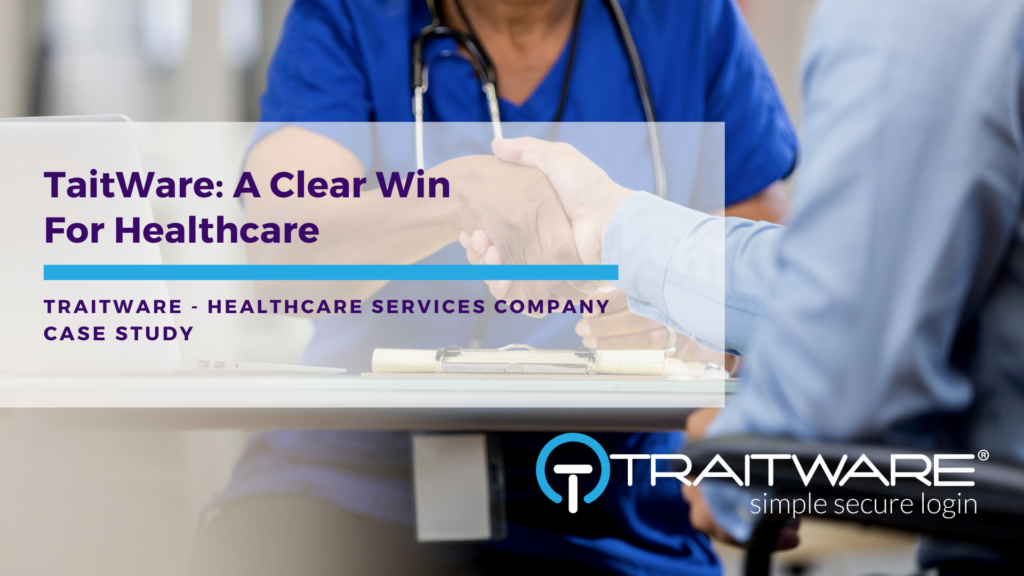 TraitWare's Identity & Access Management (IAM) solution beat DUO and displaced RSA for Healthcare Services Company (HSC) due to greater security, ease of use, and cost savings.
Highlights:
– Simple for Users and Administrators
– Easily Integrated with all Existing Systems
– Cost-Saving Solution
– Dramatically Improves Security
– Scales as Company Grows
Introduction: Securing the Healthcare Sector with TraitWare's Passwordless MFA Solution
Companies in the healthcare sector are especially vulnerable to cyberattack. They are a top target for cybercriminals because the black market value of medical data is extremely high. According to Experian, medical data sells for more on the dark web than credit card information or other financial records.
Data breaches damage a company's reputation and they are expensive. (They are often so expensive, that companies cannot survive them.) When it comes to the financial impact of data breaches, healthcare suffers greater losses than any other industry. According to a 2020 study by IBM, the costs incurred by data breaches in healthcare reach $7.13 million annually compared to the global average of $3.86 million.
This is the story of a major American Healthcare Services Company (HSC) who came to TraitWare with an urgent request for greater security for all of their users.
For two decades the HSC has provided state, county, and local government agencies, community-based organizations, and managed care systems throughout the country with the advanced technical solutions necessary to connect people to multiple benefits – from Medicaid and SNAP to EITC and locally-based programs. The HSC provided people-centered, policy-driven solutions and consulting services that flex to meet the rapidly evolving needs of their clients.
[Recognizing the sensitive nature of data within the healthcare industry, and in keeping with core company values, we've elected to protect the identity of our customer. Exceptional reference may be available upon request and under NDA.]
What the Customer Needed – Why TraitWare?
The HSC chose TraitWare's Passwordless MFA solution for its employees, healthcare clinic customers, and healthcare clinic patients because of its simplicity, flexibility, and ability to reduce costs across the company.
The HSC chose TraitWare's simple and secure login process to replace the public-key cryptosystem RSA (Rivest–Shamir–Adleman) for secure data transmission. "In our industry, security is critical because we deal with sensitive consumer information. The RSA key process was secure but cumbersome," said Matt B – Director of Information Security at the HSC. "It required that our system administrators use up to five separate RSA keys to log in to different accounts. The TraitWare process saves us time and cost while improving security."
TraitWare provided a single pane of glass access to unique identity-based applications. To clarify, imagine having multiple sets of login credentials (usernames and passwords) that are individually paired to a specific RSA key. Now imagine a single pane of glass (all accounts accessible by the user in one location with the segmentation of accounts intact) to log in in three touches while the MFA is inherently deployed. That's what TraitWare delivered.
TraitWare was also chosen over DUO because it provided a smoother user experience, greater security, better metrics, and easier implementation and deployment. TraitWare's ability to accelerate time to ROI by leveraging Passwordless MFA for Zero Trust access reduced the Total Cost of Ownership. It also combined user access management and MFA management into a single implementation.
Both RSA and DUO required managing passwords paired with separate MFA tokens. This created an administration complexity that led to misconfigurations and potential lockouts from services. As well as vulnerability as users find ways to bypass the MFA due to the complexity of login efforts.
The TraitWare authentication solution provided biometrically enabled passwordless multi-factor authentication using only a smartphone with proprietary sign-in technology. This authentication process has been fully integrated with the HSC's Citrix systems as well as Linux machines via SSH/SFTP.
What They're Saying About TraitWare
"We're on a bold mission to eliminate barriers to getting people connected to benefits services so that all people have access to support and services when they need it," said Matt B. " TraitWare understands the value in eliminating barriers. Our companies share a mission to make processes easier and more secure for the user."
TraitWare provides simple and secure passwordless multi-factor authentication (MFA) and single sign-on (SSO) combined for Enterprises to manage all software authentications from a single console. TraitWare's award-winning authentication platform and mobile app offer NIST AAL2 level authentication assurance, full end-to-end deployment options for Enterprise (SAML, OpenID Connect, OAuth 2.0, SSH), and simple user login, without usernames or passwords. TraitWare technology eliminates credential phishing, theft, misuse, and brute force attacks.
For more information about how TraitWare can simplify and secure login for your company, contact us at any time.