Press Release
For immediate release
November 7, 2018
Nevada City, CA
TraitWare® is extremely pleased to announce that the TraitWare® Secure Login Solution was selected as the 2018 Winner in the Software category. The 3rd Annual Sacramento Region Innovation Awards, sponsored by Stoel Rives LLP, the Sacramento Business Journal, and Moss Adams LLP, recognized winners across eight categories. TraitWare® began its Nevada City operations in 2016. With a growing economy and emerging technology, we are proud to call this region home
Secure Login by TraitWare® is a login solution that eliminates the number one source of login attacks – usernames and passwords – and makes logging into any resource, from any device, incredibly simple and secure. Contact us for details on how to Simplify and Secure your login.
3rd Annual
The Sacramento Region Innovation Awards program recognizes the area's vibrant innovation community. From startups to established companies and their breakthrough innovation. Submissions undergo a strict evaluation process by peers and leaders from the Capital Region's business, civic and academic communities. Innovative, products, services and processes nurtured within the 9-county region are judged on novelty, market needs, economic impact, and disruption.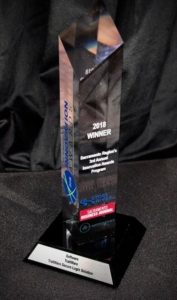 TraitWare® is proud to have been recognized along with the two other finalists in the Software category, Fantag and Intellaegis, Inc.
TraitWare® also thanks Five Star Bank for inviting us as a Presenting Company at their "Bank Tank II" on Wednesday, Oct. 31. The presentation opened up many opportunities with investors and potential users of the TraitWare® Secure Login Solution. Thank you, Five Star Bank.
We thank the Nevada County Economic Resource Council, the City of Nevada City, and County of Nevada. These city and county organizations established a facility that helped position TraitWare® to win the Sacramento Region Innovation Award. TraitWare® is located at the Nevada County Tech Hub in Nevada City, California
---
Contact: Amy Powers
(530) 264-7661
amy.powers@traitware.com